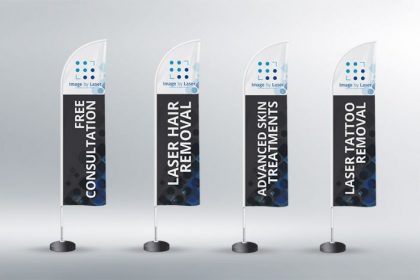 When considering how to create a design for your teardrop banner, the most challenging aspect to consider is what is the best information to use, and how best to place it on the non-symmetrical teardrop flags shape.
Getting the most out of your banner for advertising on is essential; & is a useful tool to use to generate more leads for your business or company. We have noted down some of the lessons we have learnt over the years. Following these artwork design tips for teardrop banners will ensure your advertising efforts are effective.
1. Decide on Just One Key Branding Message.
It is always best for you to stick to just one key, simple; branding message. Do not confuse the blank surface as an art canvas and get carried away with complex designs & wordy copy.
A teardrop banner is a tool for a particular purpose. Do you want to promote an upcoming special offer or sale? Alternatively, do you want to simply re-enforce your brand at an event? Alternatively, (even) are you going to let customers know the specific location of you, your business or company?
To reach your audience and keep them engaged remember that banner designs are most useful when they are kept as clear & straightforward as possible. They will be viewed for a very short time, and generally, while people are on the move – so bold is always better.
2. Should you Advertise Your Website or Phone Number
In most cases, ProCloud Signage clients mount their teardrop banners outside the front of their business premises to be visible by passing motorists and pedestrians.
In these situations, on average, you will only have 5 seconds to communicate to potential customers; and make a lasting impact. These passers-by may not always have the time to remember or write down a ten digit phone number, but they will remember a website address. Probably more so, if the web address includes your business name too.
3. To Add Image or Not
While in some cases using high-quality images can add extra value to your branding message. In many cases, this value depreciates over time. Why is this? Well because of images will date the design quickly. If you are must use an image, its worth remembering: what is popular now may not be for very long.
The quality of your image is also essential. Having a poor quality, low resolution, pixelated images will affect your brand's reputation. Should you do decide to use pictures, it is imperative that the quality of the pictures used to be of a high standard.
What may be a good quality photo on your business card will not always end up being a good choice when it is blown up to the size of a teardrop banners. With our years' experience, ProCloud Signage will help you decide if the image is sufficient enough quality to be blown up to the size needed.
4. What Image Resolution to Use for teardrop banners
At ProCloud Signage we feel the most powerful marketing tool is top of mind advertising. Over the years we have noticed that it has become apparent, that the most effective banner designs are those which are designed using bold, crisp logos.
By repeatedly displaying your logo for clients to see, you increase your chances of being remembered by a potential customer next time your product or service is required. Brand exposure through media exposure is key to Top of Mind Advertising.
Contact ProCloud Signage about Your Teardrop Banner
Procloud Signage designs & prints the best teardrop banner to businesses in Brisbane.
Our team of designers & printers use the latest technology & best materials to create outstanding Custom teardrop banners for any purpose. Contact us today & we will create something that'll get you noticed & make you stand out from the crowd.
Call 1300 722 659, Email info@Procloud.com.au