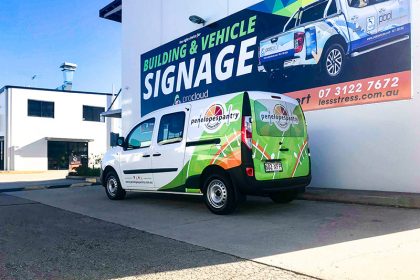 How we Categorise a Partial Wrap & Vehicle Graphics
At Procloud Signage we categories vehicle graphics such as partial wraps, as by how much of the vehicle we cover with graphics, on that; we split them into these 3 categories:
full wrap,
partial wrap &
spot graphics
Specifically, What does this mean
A full wrap obviously implies that almost whole vehicle is wrapped. Sometimes certain areas are left uncovered such as the roof of a vehicle.
Spot graphics are commonly printed or solid-color cut vinyl lettering that is installed on the doors of a vehicle, tailgate some or other small area.
A partial wrap is everything in between, we define a partial wrap as graphics covering between 25% to 75% of the area of the body of a vehicle.
Why Choose a Partial Wrap
So, Why would a client choose a partial wrap over a full wrap? Why not just get a full wrap, isn't it always a better option? Not really. A well designed partial wrap can be just as effective as a full wrap.
We'd say that most of our clients who choose a partial wrap, do so for one of two reasons 1. budget – &/ or 2. design. Bundled in with both of these reasons there bundled together with a number of other considerations.
Advertising Budget
It's really no-brainer that a job with a larger area covered with graphics coverage is going to cost more than one with less. It's important to work with our clients to meet their budget and to provide them with some varied options on their vehicles coverage. A custom designed full vehicle wrap, & the price that comes with it isn't an option for a lot of small businesses & startups.
By providing our clients with a set of alternative coverage options, it provides them with a number choices that will meet their budget, needs & vision. 2 very common options for partial wraps are a simple tailgate wrap bundled with spot graphics on the doors or a larger graphic on the sides of a vehicle.
Installation Costs
When we meet & talk clients we look at their vehicle with them, advising them on the best areas to apply the graphics, we select the best areas that provide the most impact, this will make for a more effective design as well as keep the installation costs down.
The different shapes & sizes of the vehicles we work with all offer different challenges when it comes to designing a partial vehicle wrap.
Fleets Vehicles
Larger clients with multiple vehicles will often choose to apply partial wraps on their vehicles as this reduces total square footage to be covered, & in turn keeps costs in down, allowing them to keep within their advertising budget for all of their vehicles.
A partial wrap can vary from vehicle to vehicle within a client's fleet, so, vehicles with a large box; or those that go out often may be wrapped with more graphics. So by varying the amount of coverage you can advertise more [heavily] on your larger vehicles & well worn, premium routes.
Uniformity & design consistency is another factor, partial wraps are so versatile that a common element, colour or logo can be designed to fit multiple types of vehicles, while still keeping an overall consistent [brand] identity.
Often our fleet vehicle clients will have a core design that we use that is modified to fit the different types of vehicles in their fleet. The design elements might be shifted around or the sizing adjusted, but overall we aim to maintain a consistent design.
Design, Look & Feel
Some people just like the look of a partial wrap. If a work vehicle is also a personal vehicle, some people may simply want their vehicle graphics to have a much subtler overall impact.
A great way to keep a partial wrap from looking like a huge, cheap bumper sticker is to incorporate the body colour of the vehicle into the design. By designing the wrap to blend with the colour of the vehicle, the overall design looks more cohesive.
Another great option for blending a partial wrap is to work with the shape of the vehicle and use the curves as part of an overall design approach. By taking into account particularly odd contours or challenges during the design process, we can make these areas look more deliberate in the design while also reducing the difficulty of the final installation.
Spot graphics can also help tie together a partial wrap by visually extending the coverage. Combine a large wrapped section with the logo, slogan, contact information or other.
Contact ProCloud Signage about Partial Wrap Vehicle Graphics
ProCloud Signage designs, prints & installs the best partial wrap vehicle graphics to businesses in Brisbane. Our vehicle wraps will enhance your brand's image & promote your business wherever you travel.
Our team of designers & printers use the latest technology & best printing materials to create outstanding vehicle wraps for your vehicle. From a single car to a fleet of vehicles, we'll create something to get your business noticed wherever you travel 24/ 7.
Call 1300 722 659, Email info@Procloud.com.au