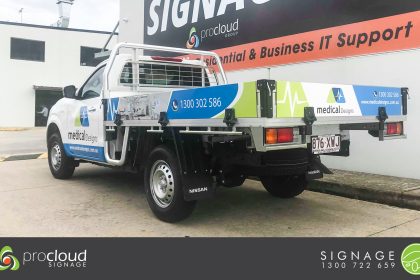 How Will Ute Tray Signage & Vehicle Signage Impact my Business?
The goal of the majority of businesses is to increase exposure to continually attract new business. This can be achieved through some form of advertising. Most traditional advertising (methods) can be expensive & out of reach for many small businesses. Which is why ProCloud can wrap everything from a whole vehicle to a more basic Ute Tray Signage offering.
So for a new business or small business on a budget vehicle advertising is a cost-effective form of advertising that will increases exposure to your brand. As a business investment, vehicle signage – whether it's a fleet of trucks or just one or two cars, gets's the best returns for your money.
The exposure that you will get daily from just one car has the potential to reach thousands of people.
You can cover all of your vehicle with signage, just one or 2 panels, or just the toolbox or ute tray signage.
Vehicle Signage Advertising Vs Traditional forms:
The High Cost of Traditional Media
Compared to traditional media, vehicle signage has by far the lowest cost per impression. For the cost of just one single TV campaign running over a period of (say) a month, you can have a whole fleet of vehicles covered in advertising that's very visible. Vehicle signage is a mere fraction of the cost of TV.
Fast Declining Newspaper Readership
While most other forms of traditional media are fragmenting and/ or on the decline, outdoor advertising continues to increase vehicle signage falls under the category of outdoor advertising. According to Billboards Australia Outdoor advertising has increased by 5.5%.
How Visible are you on the Road?
Vehicle advertising is very effective because of the huge exposure it attracts for such a small investment.
Newspaper readership continues to fall. TV & Radio are still very expensive. Internet advertising can be complicated. Vehicle signage can go where you go.
Contact ProCloud Signage about Ute Tray Signage Vehicle Graphics
ProCloud Signage designs, prints & installs the best Ute tray signage vehicle graphics for businesses in Brisbane. Our vehicle signage will enhance your brand's image & promote your business wherever you travel.
Our team of designers & printers use the latest technology & best printing materials to create outstanding Ute tray signage for your vehicle. From a single Ute to a fleet of vehicles, we'll create something to get your business noticed wherever you travel 24/ 7.
Call 1300 722 659, Email info@Procloud.com.au