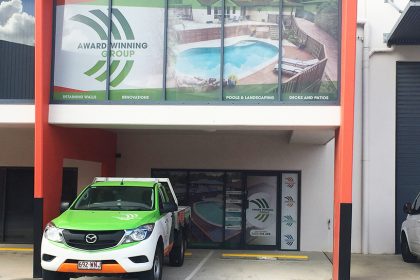 What is One-way Visions Window Signage
The vinyl material has numerous tiny holes so when viewed from the outside, the graphics look normal, solid. However when the window is viewed from the inside it's practically invisible, that's why its referred to as a one-way vision signage!
Uses for One-way Visions Window Signage
Practically anything can be printed on these signs, & they can be attached to any window of any type of business – shops, offices, doctors surgeries, restaurants & cafes.
Business hours,
Business logo,
Brands that a shop stocks,
Menus,
Even special deals on offer
What to Consider When Choosing Window Signage
A lot of our clients look at their windows at the front of their business premises and commission us to think of how to use colour and well-placed window graphics to attract the potential customers that pass by every day.
There are many aspects we'll ask you to consider when you're creating window signage for your business. There are a variety of window display products, including:
Opaque window decals,
Opaque static clings,
Clear static clings,
Clear window decal &
Frosted window decals
At ProCloud Signage we will take you through the process of designing an effective, attention-grabbing, readable window sign.
Contact ProCloud Signage about One-Way Vision Window Signage
ProCloud Signage designs, prints & installs the best one-way vision window signage to businesses in Brisbane.
Our team of designers & printers use the latest technology & best materials to create outstanding window signage for any type of business:- from factories, shops, offices, cafes, restaurants & many many more. We'll create something that'll get you noticed & make you stand out from the crowd.
Call 1300 722 659, Email info@Procloud.com.au