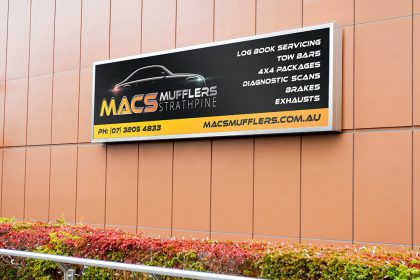 There are many reasons why you may need some signage made up:
Maybe you are just starting a new business,
or you have an established company and want to rebrand.
Or perhaps you wish to improve your visibility and get the attention of potential customers.
At whatever stage your business may be at, good quality signage must be a significant component of your marketing mix, when you need to make an impression and create a strong visual brand image.
How Can Good Signage Help Your Business
Good signage will help your business in numerous diverse ways, including:
Branding Awareness and Visibility
General speaking customers are more likely to buy from someone they have heard of that one they haven't, this can include a business as well as an individual. Creating some striking, eye-catching signage, exposes your business to people; who over time may become customers.
Product Differentiation
You can use your signage to help to differentiate your business from the competition and enable you yo develop a truly unique brand. The more distinctive you make the signage design, the more your business will stand out in the jungle, & in the eyes of your potential customers. As long as you ensure that your signage reinforces your unique point of difference, it can act as a virtual salesperson 24 hours a day, seven days a week – all year around.
Form Follows Functionality
As well as having a highly visual, promotional function, your signage also has a practical role to play in helping direct people to your business and merchandise; as well as continually informing them when you are having events such as sales, promotions & new product launches. This will help you raise awareness of your marketing activities and improve your customers' experience.
The Benefits of Signage Over Other Methods of Marketing
If you're not sure whether you should invest in new custom signage design & production for your business, or maybe update your existing signage; here are a few benefits that great signage from PriCloud Signage will bring to your business when compared to other forms of marketing activities:
As a Cost-Effective Marketing Strategy
While there may be an initial investment, once your signage has been designed & produced there are (little to) no further costs – unlike some other methods of marketing; that require ongoing maintenance and continual updating. So when you consider the number of people your signage will reach compared with other types of marketing, the level of exposure compared to the cost makes it an extremely worthwhile investment in your business.
They Work 24/ 7 All Year
Unlike many other advertising & marketing promotions, that usually only run for a limited period of time, business signage will be up and highly visible continuously, no matter what time of day or night it is.
Brand Exposure
When people first see your signage as potential customers they might not be ready to buy your products or services but, with continual long-term exposure to your signage as they walk or drive past (every day) often means; that once they are ready to buy – they are more likely to think of you & your business.
ProCloud Signage offers the best quality custom signage to businesses & companies all over Brisbane. Our team of designers create outstanding, memorable custom designed signs that'll make you stand out in the jungle.
Call 1300 722 659, Email info@Procloud.com.au.