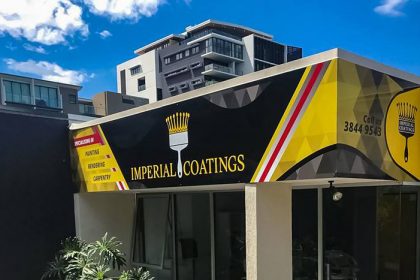 Aluminium (Alupanel) signage is lightweight, yet sturdy; making is an excellent choice for commercial signage. Alupanel signage comes in a variety of colours, and with a baked enamel finish, it is exceptionally durable; weathering the elements without rusting.
Alupanel signage is the best option to promote your business to passing traffic. Alupanel signage does not need a frame; since it is constructed from lightweight aluminium, this allows for easy installation and can be any number of signage applications.
With a perfectly smooth finish, Alupanel signs produce a premium quality image that can make your brand really stand out from the crowd. The aluminium panels are usually printed in full colour on a large flatbed printer, using the best quality UV resistant inks manufactured to last in the harsh Australian climate.
Interior Alupanel Signage
Well placed interior signs can do a lot for business, room signs that direct customers to where to go in your building to a reception sign that announces your business or brand in a bold, welcoming way. Interior signs can make a memorable first impression for your business that can have an immense impact on customer perception of your business.
Contact ProCloud Signage about Your Aluminium Signage
Aluminium signs are one of the best types of metal signage businesses can use to advertise their products and services. They are durable signs that can be fixed to a wall or any other flat surface, attached to a flag, or fixed to a pole to give your business a professional look.

At ProCloud Signage, we create strong, but lightweight aluminium signs that do not bend easily, to help businesses advertise their products and services. We provide you with exceptional graphics designs and use the latest technology to create an excellent sign that will give your business the necessary exposure.
ProCloud Signage designs, prints & installs the best aluminium signs to businesses in Brisbane.
Our team of designers & printers use the latest technology & best materials to create excellent building signage for any business premises: factories, shops, offices, cafes, restaurants & many many more. We will create something that'll get you noticed & make you stand out from the crowd.
Call 1300 722 659, Email info@procloud.com.au