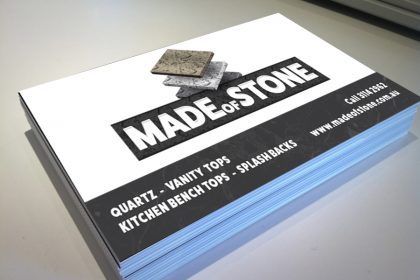 You are undoubtedly familiar with corflute signs, corflute itself is very similar in appearance to corrugated cardboard and can be easily shaped & cut using a simple craft knife.
Corflute makes an excellent choice for many signage purposes as it is (very) cost-effective choice for signage material, as it is easy to design for, print, transport & store. Moreover, although it is comparatively inexpensive, corflute is a robust and durable material.
The corflute signs the ProCloud Signage create are weather resistant, this ensures some protection against the weather and providing a longer lasting display. A significant benefit of using corflute signs is they can be located almost anywhere attached to hooks, legs, or other fixtures; to help you put up your signage fast and securely.
Corflute Signs Make A Perfect Temporary Signage Choice For Business
Corflute is a low-cost signage choice; it is the perfect choice for companies & businesses who need a ready supply of temporary signs for any number of purposes.
These temporary signs can be used for purposes things such as election campaign signs & real estate signs. The low cost of producing this material can equip you with a vast number of signs; very quickly.
corflute signs are often widely used by real estate agents to promote properties for sale or rent; tradies can use them to advertise their businesses on the sites of their current jobs. Also, due to their durability and lightweight structure, corflute signs can easily be relocated and used over & over. Corflute is available in a range of thickness which further ensures a corflute sign can be used for almost any purpose.
You Can Use A Corflute Sign for Conferences & Event
Not only are these signs cost-effective and lightweight, but they can also be produced any graphic design & message printed on them. ProCloud Signage prints all of our corflute signs in full colour using the latest in UV technology. This process enables you to choose a lively, eye-catching design to attract customers, spread your message & promote your brand.
Conferences & events often use corflute signs heavily as signs can be easily transported and displayed to showcase a business stand. Also, festivals, fairs, tradeshows and other events taking place outdoors or in large venues attended by a large number of attendees.
At huge gatherings, it is necessary for these circumstances to post signs for parking, catering, registration, toilets & so forth. These signs are an excellent way to plant multiple signs throughout the event venue, ready for simple and easy removal when your event has ended.
There are endless possibilities in which a corflute sign might be the ideal choice. Just a few of the popular uses for corflute include:
Real Estate signage
Promotional signage
Construction site signage
Tradesman site signage
Building site warning signage
Security company signage
Trade show display signage
In-store promotional signage
Safety signage
Warning signs
First Aid signs
Contact Procloud Signage about Custom Corflute Signs
Procloud Signage designs & prints the best custom corflute signs to businesses & companies in Brisbane.
Our team of designers & printers use the latest technology & finest materials to create outstanding custom corflute signs for use by: real estate agents, tradies, events managers, shop owners & many many more. We'll create something that'll get you noticed & make you stand out from the crowd.
Call 1300 722 659, Email info@Procloud.com.au