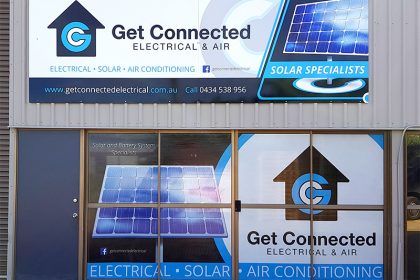 Advertising & marketing a business has never been more competitive than it now. Every aspect of a company or business – from the goods and services it provides to customers & clients; to the different types of promotional materials it uses must, be fully analysed and strategically planned in, order for a company to maintain a cohesive; reputable brand image. For a lot of these companies & businesses the one common denominator that they have, in terms of advertisement and marketing, is business signage.
Importance of Business Signage in Advertising & Marketing a brand
The vast majority of companies & businesses almost always have the one or more physical location… such as office buildings, shops, restaurants, cafes, warehouses. A lot of these business premises are regularly placed in some prime locations where they can attract &/ or advertise to passing trade.
There are any number organisations offering very similar products & services as their competitors. To stand, out it's essential that their advertising & marketing strategies ensure people know what the company is about when they enter a building. This is why the quality of your commercial business signage is an essential component of a brands message.
The first impression that people have of your business will make or break your brand perception. Quality, custom designed business signage will help you draw in; these potential customers.
This list of materials is written to help you choose the right material for your organisation's commercial signage, its part of a series of articles about commercial signage.
Acrylic – all signage made from acrylic sheets has an excellent visual appeal. Due to its flexibility, it's quite easy to customise signage to your needs. Acrylic sheets are lightweight & shatter-resistant, meaning that you can install these types of signs in virtually any location without worrying about its strength.
PVC Foam – any custom designed can be easily printed on PVC foam boards due to its versatile, smooth surface. It another quote touch material, so it's not that easily scratched. Another benefit of this material is that it's weather resistant, therefore; a good choice for some outdoor signage.
Coreflute – this tough material comes in the form corrugated sheets, it can resist most chemicals, water & dirt and generally speaking; it'll survive well outdoors in most weather. They are quite versatile as they come in many different colours. Coreflute is very easy to cut, being lightweight; it makes it the ideal material for screen printing.
Polycarbonate – is also an ideal material for any commercial business signage. It's both heat and flame-resistant, tough, and can resist whatever the elements throw at it. Polycarbonate signage can be easily installed, is environmentally friendly, and has a high level of transparency.
Alupanel – signage can be easily installed on the vast majority of commercial buildings. Due to its weather-resistance, it's an ideal for solution outdoor installations. Designs with high-resolution images can be printed on alupanels, which makes signboards both strong and visually stunning.
Contact ProCloud Signage about Commercial Building Signage
ProCloud Signage designs, prints & installs the best commercial building signage to businesses in Brisbane.
Our team of designers & printers use the latest technology & best materials to create outstanding building signage for any type of business premises: factories, shops, offices, cafes, restaurants & many many more. We'll create something that'll get you noticed & make you stand out from the crowd.
Call 1300 722 659, Email info@Procloud.com.au