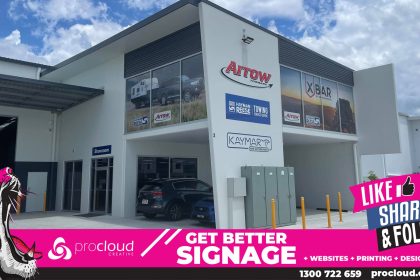 Types of Signage Trends to Follow in 2022
Signage has long been a significant marketing tool, but it's not enough these days to hang a poster in the window and call your job done. With so many different types of signage you can choose from, you can say a lot with the style you choose for your business.
In this article, we'll go through some of the more recent trends in the types of signage you have to choose from and what to consider when evaluating types of signage for your business.
Types of Signage
Decal Signage
Decal signage has never really gone out of style and can be a great way for a variety of businesses to capture the attention of prospective customers. Mix it up with some awesome, creative font choices, colour or even a frosted touch and you're good to go.
Flag Mounts and Hanging Signage
While flags and banners do have their place in signage – being something of a stalwart in terms of reliability – when it comes to creating a lasting impression in advertising your shop, merchandise, service or product, you're not always looking for types of signage that are big and bold.
If you're looking for something a little different from your average banner signs – which can easily be destroyed in bad weather, sturdy, durable flag mounts or hanging signs can be a sleek, elegant way to capture prospective customers' attention, without the added hassle of finding somewhere to store them.
Hanging signage and flag mounts are useful both indoors and outdoors, with options for this type of signage that are creative as can be. You can use an acrylic base with modern text, or something a little more laid back, like wood and etched cursive.
Neon Signs
Once relegated to bars and shopfronts, neon signs are the type of signage that can suit almost any workplace. Available in a variety of colours, shapes, texts and fonts, neon signage creates a lasting impression day or night.
Car Wraps
Car wraps have been a great type of signage to use if you want to get the word out there while you're out and about. As a form of transportable signage, this is a cost effective type of signage that will almost do the marketing for you.
The great thing about car wraps is that, these days, you can be as creative as you want in terms of paint colour, design, font and more. And once it's installed in your car or truck, it's a set and forget solution that will pay dividends in return on investment.
Illuminated, Lightbox Signage
Illuminated lightbox signage has risen in popularity these days as a great way to advertise your business and wares.
Not only are the smaller options fantastic for getting the attention of walk-in customers, illuminated lightbox signage can often be seen from the street – much like a billboard – so will get the attention of even more passersby than your standard illuminated signage.
The best part about illuminated lightbox signage, however, potentially lies in its versatility. Unlike other signage options, like hanging signage or neon signs, illuminated lightbox signage is easily adaptable to many situations and can be changed as you see fit.
No longer do you have to wait for this type of signage to be made and ordered from the supplier – you can say what you want, when you want, instantly.
Acrylic or 3D Signage
When looking for the types of signage that suit your business, you've probably come across those cool modern acrylic or 3D signage options that can really make your business, service or product stand out.
Acrylic or 3D signage can be a lot more cutting edge than other types of signage solutions as it's more playful and allows you to express your creativity a little more with the different types of fonts, materials, colours and backgrounds you have to choose from.
It's also a fairly cost effective type of signage, so your financial outlay isn't that much if you're just starting out, but acrylic or 3D signage can be less durable and prone to damage, so you need to weigh up if it's the right type of signage for you.
If you're ready to take your signage up a notch, or want to discuss the best types of signage for your business, contact the team at Procloud Signage today.