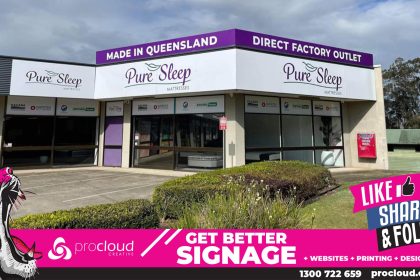 The True Value of Signage
Having quality signage solutions can be a great way to capture potential customers if you're just starting out in a new business, want to promote a new product or service, or even advertise a flash sale.
In this article, we'll go through why signage is important to your business – regardless of the type of industry you're in – and discuss the true value of having signage to promote your business, and why ProCloud Signage is the supplier of choice if you want signage worth investing in.
Why Use Signage To Promote Your Business or Enterprise?
Before the advent of social media, signage was the best tool you could use in terms of marketing a new business, service, product or sale. And while digital advertising has changed much of the landscape in terms of customer engagement, you can't go wrong with the tried and true methods of using signage as a marketing tool you can invest in.
The True Value of Having Quality Signage – Key Benefits of Signage
While a lot of marketing is focused on algorithms, SEO and adapting to what's brand new, signage has proven itself time and again to be a marketing investment you can trust to get the attention of potential customers, and keep the interest of your existing customers with new and creative designs.
While digital advertising and social media needs constant monitoring in order to keep up with the ever-changing online landscape, quality signage is evergreen.
This is one of the key benefits in choosing to invest in signage for your business, service or product. Signage is a stalwart of the marketing industry. It will never go out of style if you choose to work with a team of creative professionals – like those from Procloud Signage.
Creative, innovative and skilled professionals such as those who call themselves part of the Procloud team are on top of their game.
They know how to create signage that is worth the investment, that will capture attention and help convert potential customers into sales and returning customers who will help spread the word about how great your business is.
And if the landscape changes in your industry, or there are new markets to conquer, signage is a workable solution that you don't need to relearn or throw out and start all over again.
This means there's no extra training, and minimal financial outlay to pivot your business to a new and interesting demographic that will help grow your business, the way there might be with other methods of advertising.
Why Choose ProCloud Signage?
If you're looking for quality, reliable and creative or innovative signage that will attract attention, there's no better place to go than ProCloud Signage.

For years, our unique and professional approach to signage solutions as a marketing tool has been second to none, and signage for your business will be no exception to that.
To up your marketing efforts with signage provided by the best team there is, contact ProCloud Signage today.