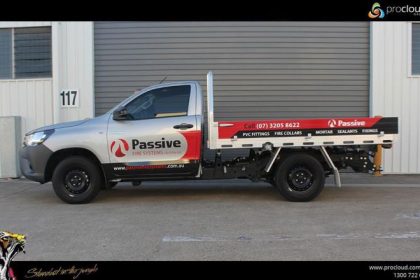 Want to make a strong statement about your brand? Why not consider car vinyl wrap Brisbane?
Any vehicle can work for your brand even whether you are on or off duty. The spaces on your vehicle are a valuable real estate for advertising. Your customers are everywhere and they are constantly in motion.
In this article, we discuss four reasons to invest in vinyl wrap Brisbane for your car or delivery fleet.
1. Better than billboards
Billboards do not move. Car vinyl wrap can hold its own against the sheer might of an epic billboard. This is saying something since a vinyl wrap is usually much smaller. However, car wraps are certainly no less impactful or memorable.
With a vinyl wrap, your brand covers more ground.
2. Costs less
As a method of advertising, vinyl wraps are immensely cost-effective. When compared to billboards, or TV, vinyl wraps are a much cheaper advertising option. In fact, it is this very quality that sets them apart from other advertising methods. Vinyl wraps are relatively inexpensive.
It can be the perfect way for small businesses to leave their mark in a premium space, for much less.
3. Makes you noticeable
Vinyl wraps are typically bold, bright, and impressive. They are memorable to those who see them and are appreciated for the way they hug the contours of a car. Whether you are parked or on the go, you will be seen and admired.
Vinyl wraps also make you recognisable to existing customers. Bring your car to an event and have it work as a sign at your exhibit. Or, use it as the backdrop for promotional artwork or in group photos with your team.
Your car can quickly become a mascot for your brand, with a vehicle vinyl wrap Brisbane.
4. Speaks to your identity
Let your car embody the identity of your brand with vinyl wrap Brisbane. Your personality and your brand can come alive, through the vivid colors and tones of an attractive vinyl wrap. The bold colors, large forms and intricate patterns of a vinyl wrap scream look at me.
You can exude quality and uniqueness with a vinyl wrap.
In short, consider vinyl wrap Brisbane for:
Their effectiveness over billboards
Their low cost
The recognition they bring
The way they embody your brand's identity
Vinyl wraps cost less per impression than most other forms of advertising. So why delay? Call the experts at ProCloud Marketing and have our experienced team of artists and printers, work with you, to cover your car or fleet.
Contact ProCloud Signage about Using Car Wraps to Advertise Your Business
ProCloud Signage designs, prints & installs the best car wraps for businesses in Brisbane. Our car wraps will enhance your brand's image & promote your business wherever you travel, 24/ 7.
Our team of designers & printers use the latest technology & best printing materials to create outstanding car wraps for your business. From a single car to a fleet of vehicles, we'll create something to get your business noticed.
Call 1300 722 659, Email info@Procloud.com.au