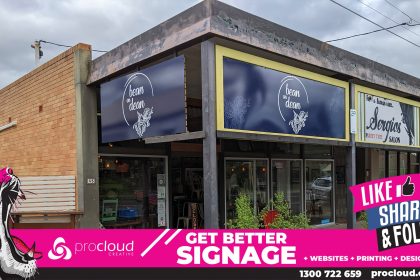 How Much is Signage for a Shop?
We often have people asking us about the cost of signage, namely, "how much is signage for a shop?". In this article, we'll answer that question, and discuss how we determine the price of our shop signage.
How Much is Signage for a Shop
Unfortunately, there is no one answer to the question how much is signage for a business shop, because the price is determined by a number of factors that we consider when preparing your quote for shop signage or shopfront signage.
Things to Take Into Consideration When Determining Signage Price
Type of Signage
Signage isn't a one size fits all solution, so the price of your signage can't be a one size fits all figure.
One of the first factors to consider in answering the question, how much is signage for a shop comes down to the type of signage you choose.
Banners, for instance, require a different level of creative input to, say, vehicle wraps or corflute signage, so all cost different prices to make and design.
Material & Usage
Usage and material is something we like to discuss with our clients from the outset when they approach us with the question how much does signage cost for a shop.
How you intend to use the signage we produce depends on the type of material you are able to viably use for your signage, which is a major consideration when determining the amount of money you need to spend on quality signage.
Size
Much like the type of signage, the size of the signage you require goes a long way to answering how much is signage for a shop.
But it's not always a case of the smaller the signage, the lower the price; it's about the amount of work we have to put into a product of the size you want and how much that is going to cost to produce.

Turn Around Time
As with anything, the faster you want it will have an impact on how we answer the question how much is signage for a shop. At Procloud, for instance, we try to deliver our signage as quickly as possible, but if you have a quick turnaround time, you may find it costs more.

Ready to go now? Contact the team at ProCloud Signage for signage solutions and prices that will exceed your expectations.