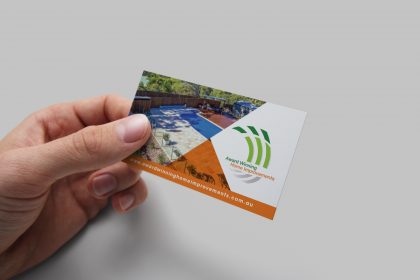 What is a Business Card
A business card is a small card that carries important information about an individual, &/ or a business. They are given out during meetings, as both a memory aid & for future reference.
A professional business card should contains the following information about you & your business such as name, position, comopany name & importand direct contact details.
These days, with the advent of social media, a business card may also include social media accounts such as Twitter, Facebook, & Instagram.
However, business cards, in addition to enhancing a brands image, also offers more benefits, such as making the owner look professional & credible.
Here are some more benefits that business cards can provide.
The 5 Main Reaons Why Business Cards Work
1. Make Great First Impression With Your Business Card
When you meet a contact that could be great for your business, you need to create a great first impression on him/ her? A well-designed business card does more than just provide contact details, but also help leave a good first impression. However, to leave an impression on whoever you give your card to, your business card should be made from the best materials only. Think of your business as a retail store, & your business card as a storefront sign. If your storefront sign isn't catchy enough, no one will go in. Furthermore, business cards can also act as an icebreaker for you.
2. Direct Marketing Tool
Search engine optimisations, paid media, as well as email marketing all do a great job of marketing businesses & service. However, they still are not as effective as one-on-one meetings, crowned with a handshake, & followed by an exchange of business cards. You can meet a potential lead for your business at any time, & equipping yourself with business cards all the time will ensure that an opportunity is never lost to foster a valuable business connection. To be better prepared, in case you need them, keep business cards in your pockets, wallets, or bag.
3. Continued Marketing with Business Cards
A business card is a solid object that you leave with a potential prospect. This way, your brand/organisation stays with them. When compared with the normal exchange of phone numbers between a prospect & you, it simply just ends there. However, if you hand over a well-designed business card that can make a long-lasting impression; the person is likely to show it to other people, consequently placing your organisation in front of more prospects.
4. Professionalism
Handing over your business card to a prospect shows that you are a professional & that you take your business seriously. Writing down phone numbers or addresses on a napkin, or presenting a dead mobile phone to store a contact cannot be more unprofessional. On the other hand, handing out your business card shows you are prepared at all times & is a good indicator that you are professional.
5. The Convenience of Business Cards
Business cards are usually small & very portable, the most common size of business cards is 3.5 inches by 2 inches which makes it very convenient to place in a wallet, pocket, or purse. Business cards are also small enough to h& out, place on a board, attach in a letter, or showcase on a store counter.
Contact Procloud Signage About Business Cards
Procloud Signage offers the best quality business cards to businesses all over Brisbane.
Our team of designers & printers use the very best technology & materials to create outstanding, memorable business cards for your business.
Call 1300 722 659, Email info@Procloud.com.au