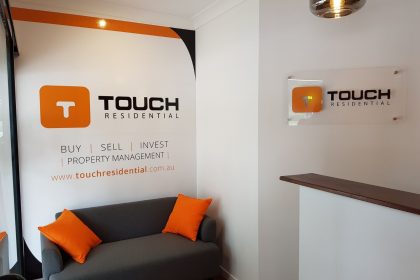 Why Choose Wallpaper Signage?
Custom designed wallpaper signage is the ideal signage solution for decorating virtually any commercial space such as bars, cafes, restaurants, shops, offices etc. They can provide an instant splash of colour & subtle style to business premises, giving any business a calming & inviting environment that both current & prospective customers will feel comfortable in.
At ProCloud Signage we provide high-quality custom designed, digitally printed wallpapers that will give businesses premises a professional, stunning look. We use the highest-quality material & the latest technology to print stunning wallpapers that will enhance the mood of your business space.
Designing Wallpaper Signage
At ProCloud Signage we advise all of all clients that, when it comes to custom wallpaper signage, they should think of the walls of their business as a blank canvas to which they can apply virtually any design, from large murals that cover a whole wall, menus, special offers to inspirational quotes, your walls are a wonderful way to tell your company's story & generate a real impact.
Give your creativity free reign & we'll take care of the design, print & installation. At ProCloud Signage our expert will consult with you on the best options for your custom designed wallpaper signage.
What Materials Can You Print On
There are a number of materials to choose from:
How much does Custom Designed Wallpaper cost?
Pricing varies greatly depending on the design & finish you want as well as the materials you choose, contact ProCloud Signage for an obligations free quote. Custom designed wallpaper can last for anywhere up to three years & can be easily replaced to reflect your business activities or any special promotions on offer.
What Type of Designs Work Well for Wallpaper Signage?
Literally, any design can be applied to custom wallpaper – from fine ornate design to large bold prints, from sublime neutral colours to bright eye-catching colours, as well as a range of different textured finishes. We make sure that your wall becomes your work of art.
Contact ProCloud Signage About Custom Designed Wallpaper Signage
ProCloud Signage designs, prints & installs the best custom designed wallpaper signage for businesses in Brisbane.
Our team of designers & printers use the latest technology & the very best materials to create outstanding custom designed wallpaper for any business premises.
For an obligations free quote call 1300 722 659, Email info@Procloud.com.au