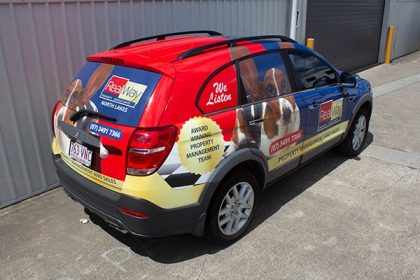 If you're looking for a car signwriting Brisbane expert then you should start with these must-knows.
Car signwriting involves changing the appearance of your vehicle, which means you want to get it right. You will want to make sure that the car signwriting process goes smoothly and helps achieve your business and marketing goals. You will want to find a specialist in car signwriting Brisbane who will transform your vehicle effectively, and not make an eyesore of it.
As a leading car signwriting Brisbane service and experts in modern signage design, we're here to let you know the must-knows of car signwriting, so you get the right effect for your business.
Car Signwriting Brisbane
Car signwriting is basically attaching sections of text and information to your car on top of the preexisting bodywork, usually for commercial purposes to advertise your business or venture. Modern signage design options give you endless opportunities to reach new audiences and create a professional and impressive image for your business.
Car signwriting gives business owners a way of turning their vehicle into a moving billboard, without shelling out hundreds, if not thousands, of dollars repainting or replacing their car. Car signwriting offers owners of preexisting cars to turn them into a commercial asset, rather than just a personal item used in your daily life.
You also don't need to worry about what type of vehicle or model you have. Car signwriting has come a long way and your car signwriting Brisbane specialist will create customised and modern signage design ideas suited to your specific model of car or vehicle.
Benefits of Car Signwriting
You may be thinking, 'Why should I spend money on car signwriting?' With the right car signwriting Brisbane service on board, you can experience many benefits.
Here are some of the key advantages of using car signwriting:
Business promotion. Brand awareness is key to the success of most businesses. Car signwriting can create extensive brand reach and awareness, by doing nothing more than driving around as part of your usual everyday activities.
Vehicle rejuvenation. If the paintwork on your vehicle is looking tired, you can use car signwriting to give it a whole new look for a lot less money than repainting the vehicle.
Car signwriting is a very cost-effective marketing tool that can suit almost any budget. You can cover as little or as much of your vehicle as you wish.
When you work with a signwriting Brisbane professional you can take your marketing efforts to a whole new level, and get your brand seen by the right people.
Whether you want car signwriting that just includes your business' contact details, or a much larger, all-encompassing design for the body of the car, you can choose from limitless options. From the colour scheme to the latest in modern signage design, the power is in your hands. Car signwriting is an incredibly cost-effective way to make a long-lasting impact on your customers and new audiences.
For more information, check out https://procloudsignage.com.au/signage/signwriting-brisbane/